Pediatric Chiropractic Care in Twin Falls
I absolutely love working with pediatric patients, and my passion, focus and silliness help keep it exciting for parents and children alike.
Pediatric Chiropractor Dr. Chad Nielson
Pediatric chiropractic is a lifestyle which allows the infant a perfect neurologic and functional start to life. By removing nerve interference, the chiropractic adjustment allows innate intelligence to flow freely and every cell, tissue and organ will function normally. Parents appreciate having a happy and well-adjusted child.
A Natural and Gentle Approach to Better Health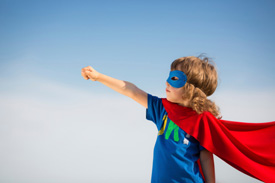 Parents bring their children to get adjusted instead of using antibiotics or medication. The human body is a self-healing entity and requires the removal of vertebral subluxations to maintain health and homeostasis. Parents are happy to get their children adjusted when suffering from ear infections, colic, constipation, focus challenges, sleep, bed-wetting issues and so many more. The gentle and effective adjustments allow the child's body to heal itself quickly and naturally.
Ensuring Kids Are Comfortable
Many parents are concerned about whether adjustments are safe. They are highly safe and gentle. Pediatric adjusting techniques are designed to perform an effective and comfortable adjustment. Most infants will stay asleep during the entire adjustment, especially if given with an instrument. Toddlers can be adjusted on their own special table or Dr. Chad often adjusts them with one parent lying down with the child. This manner can significantly reduce any anxiety that older children may have.
Dr. Chad tries to keep the experience fun, upbeat and rewarding for the child. Since every case is different, he always is open to trying whatever is necessary for the child to have a positive experience. In addition, parents are invaluable in their knowledge of each specific child's behavior and temperament. "If I sense the child is not going to receive the first adjustment well, I will suggest rescheduling to a different day rather than force an unfavorable experience."
What to Expect
Upon arriving at the practice, parents and their child will be checked in at the front desk and any remaining paperwork completed. The chiropractic assistant then escorts them to the examination room where history, vitals and relevant information are discussed. After the exam, the assistant will take the child and parents to the adjusting room. Dr. Chad will review any additional information to the case.
Upon completion, he will have a conversation with the parents about any questions, problems or concerns regarding their child. Next, Dr. Chad will perform a chiropractic examination and adjustment if clinically appropriate. A return visit, or a report of findings, will be scheduled to follow up on each case. Both parents are encouraged to participate in the meeting, so all questions are answered. The second visit, including the report of findings, typically takes 30 minutes.
We look forward to helping your child experience the best health possible through safe and natural chiropractic care. Contact Nielson Family Chiropractic today to book an appointment!
---
Pediatric Chiropractic Care | Nielson Family Chiropractic | Chiropractor Twin Falls